Solo dance training for all little swingers and tap dancers. We emphasize rhythm and the development of motor skills. And we'll add some choreography. We teach young children through play.
Price: 3000 CZK / semester
SWING CHILDREN:
A solo dance that is a general dance preparation (mostly) to swing music.
We put emphasis on body coordination, on the ability to repeat a movement and eventually create your own, on the perception of space and music. Smaller children are guided through the game.
Levels:
SWING KIDS – for children from 8 to 11 years old
STEP CHILDREN:
Tap dance training. We emphasize body coordination, the ability to perceive music and rhythm, dance training, basic tap technique and perception of space. Smaller children are guided through the game. Older children also learn choreography or improvisation.
Levels:
– TAP KIDS 1 – for children from 8 to 11 years old who have no experience with tap or need a slower pace of instruction.
– TAP KIDS 2 – for children from 9 to 12 years old who already have experience with tap (at least 1 year of lessons).
VIDEO Tap Teens
VIDEO Tap Kids
TAP YOUNGSTERS:
New this year is the TAP Youngsters 13+ level
We have a group of skilled, promising tap dancers from teenagers to young people in their twenties who have experience with tap and want to move forward quickly. We will be working on more challenging technique, improving the speed of our strokes and learning more complex variations and choreography.
We require at least 3 years of lessons, advanced level.
You might be interested in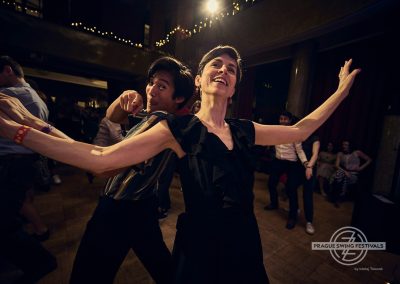 DO YOU WANT TO START SWING OR TAP DANCING?
Whether you're into swing or tap and want to start dancing, you've come to the right place! We have courses in Prague for adults and children!