Any of the girls and ladies who want to push their comfort zone and try their hand at dance performance are invited! We will work on technique and choreography, which we will then perform at the festival.
Price: 3600 CZK / semester
Marine and Kamča will transport you to the world of vintage jazz dances and chorus line.
The aim of this all-female group is to prepare for performance and at the same time to develop personal dance skills, awareness of one's own movements and also to promote self-confidence when performing on stage.
This year we will also focus a lot on dance technique!
For more ambitious dancers we will also try to create space for solos within the group choreography.
Requirements:
– at least 2 years of dance experience (it doesn't have to be swing only)
– knowledge of basic jazz steps
– willingness to perform and work on oneself
Participants buy their own clothes for the performance. The price will certainly be reasonable and in any case will not exceed 1.000 CZK. We will reflect all participants' opinions on costumes, but the final choice will be left to the teachers.
ATTENTION: This course will be auditioned at the end of June / beginning of September. Those who have already attended the course in the previous season are NOT required to audition.
You might be interested in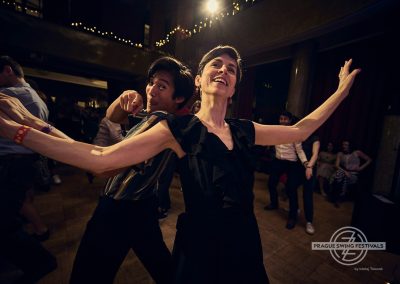 DO YOU WANT TO START SWING OR TAP DANCING?
Whether you're into swing or tap and want to start dancing, you've come to the right place! We have courses in Prague for adults and children!