Dance acrobatics for swingers. But let's start in order. Or who wants to fly in the air in a couple, has to work hard with his body!
Price: 3600 CZK / semester
* For swingers
The acrobatics lessons aim to teach dancers advanced paired elements of dance acrobatics, which can be used as so-called. "Flash moves" or for performance purposes, for example. Classes include developing individual gymnastic skills, pair coordination and their subsequent use in acrobatic Lindy Hop figures. Lessons are taught individually, with an emphasis on safety. More demanding acrobatic figures are performed only by dancers who have already reached the required level of physical fitness and coordination. It is possible to start the lessons without any previous gymnastic training, but the key is the pairwork and therefore we require knowledge of the basics of Lindy Hop.
You might be interested in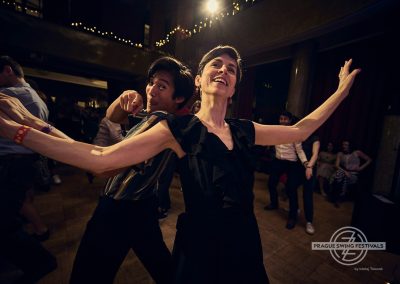 DO YOU WANT TO START SWING OR TAP DANCING?
Whether you're into swing or tap and want to start dancing, you've come to the right place! We have courses in Prague for adults and children!