Tap is for real dance enthusiasts and especially for rhythm. We emphasize technique and improvisation. That is, the ability to create your own rhythms, not just repeat the learned ones.
Price: 3600 CZK / semester
* BEGINNER (BEG)
The course is open to everyone, it is not age restricted and does not require previous movement experience. The lessons teach basic striking technique and simple step links. Students become accustomed to the basic musical structures and are introduced to the traditional Shim Sham Shimmy chorus.
* BEGINNER INTERMEDIATE (B/I)
The course is intended for all those who have at least 1 year of tap, but also for those who have started earlier and feel that they would not "keep up" in the INTERMEDIATE level, or need a more thorough practice of the material discussed. You have knowledge of the basic steps and want to improve your technique. We will focus on simpler historical routines such as Walk Around or Copasetics soft shoes.
* INTERMEDIATE (INT)
The course is designed for those who have been doing tap for a long time (at least 2 years of lessons), have a clear understanding of the technique of the strike and know what Shim Sham or time step is.
On the course you will expand your dancing skills and learn new steps and variations, deepen your sense of musicality and improvisation.
We will focus on more complex historical routines such as Doin' the New Low Down or BS Chorus.
* TAP YOUNGSTERS:
New this year is the TAP Youngsters 13+ level
We have a group of skilled, promising tap dancers from teenagers to young people in their twenties who have experience with tap and want to move forward quickly. We will be working on more challenging technique, improving the speed of our strokes and learning more complex variations and choreography.
We require at least 3 years of lessons, advanced level.
You might be interested in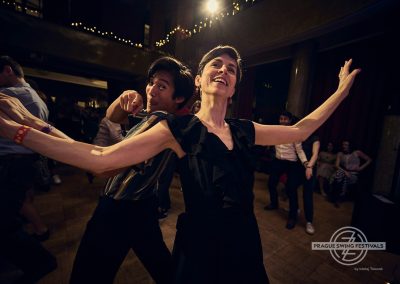 DO YOU WANT TO START SWING OR TAP DANCING?
Whether you're into swing or tap and want to start dancing, you've come to the right place! We have courses in Prague for adults and children!